Justin Garnett
---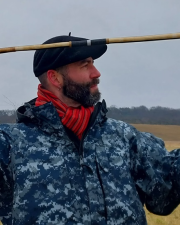 Doctoral Candidate
Graduate Teaching Assistant for ANTH 150/309
Spring 2023 Office Hours: Tuesdays and Thursdays 1:00 - 2:30pm in FR 631; and by appointment.
Biography
—
Paleoindian Archaeology of the High Plains, Projectile Weapon Technology, Osseous Tool Industries, Development of Agriculture
ANTH 100 Spring 2022 Zoom Office Hours:  Mon. & Wed. from 12pm - 1:00pm, or by appointment.
For Zoom web link, see your Blackboard.