Justin Tackney
---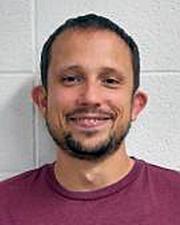 Associate Researcher, Anthropology
Contact Info
Fraser Hall, Room 615
Lawrence

---
Biography
—
B.A.: Molecular Biology & Biochemistry / Classical Civilizations - Boston University
M.S.: Biological Anthropology - University of Utah
Ph.D.: Biological Anthropology - University of Utah
Research
—
Research Interests
Population genetics
Ancestral analysis
Peopling of the Americas
Arctic migrations
Ancient DNA and forensic DNA methodologies
Evolution
Human origins
Selected Publications
—
Figueiro G, Tackney J, and O'Rourke D.  (In Press) Ancient DNA Perspectives on South American Prehistory.  In: Early Man in South America: New Paradigms in Late Pleistocene/Early Holocene Biological Anthropology.  M Hubbe and A Strauss, Editors.
Eisenberg D, Tackney J, Cawthon RM, Cloutier CT, Hawkes K.  Paternal and grandpaternal ages at conception and descendant telomere lengths in chimpanzees and humans.  Am J Phys Anthropol.  2016 Oct 12 Epub ahead of print.
Tackney JC, Coltrain, JB, Raff JA, and O'Rourke DH. Ancient DNA and stable isotopes: Windows on Arctic prehistory. In: Oxford Handbook of Arctic Archaeology, Max Friesen and Owen Mason, Editors. Oxford University Press.  2016 Oct.
Coltrain JB, Tackney J, O'Rourke DH. Thule whaling at Point Barrow, Alaska: The Nuvuk cemetery stable isotope and radiocarbon record. J. Arch. Sci:Reports. 2016 Oct; 9:681-694.
Tackney J, Potter BA, Raff J, Powers M, Watkins S, Warner D, Reuther JD, Irish JD, and O'Rourke DH.  Two Contemporaneous Mitogenomes from Terminal Pleistocene Burials in Eastern Beringia. Proc. Natl. Acad. Sci, USA. 2015.  112(45):13833–13838.
Raff, JA, Rzhetskaya, MR, Tackney J, and Hayes MG. Mitochondrial diversity of Iñupiat peoples from the Alaskan North Slope provides evidence for the origins of the Paleo- and Neo- Eskimo peoples. Am J Phys Anthropol.  2015 Aug; 157(4):603-614.
Tackney J, Cawthon RM, Coxworth JE, and Hawkes K.  Blood cell telomere lengths and shortening rates of chimpanzee and human females.  Am J Hum Bio.  2014 Mar; 26(4):452-460.
Weiss ML and Tackney J.  An Introduction to Genetics.  In: Human Biology: An Evolutionary and Biocultural Perspective, 2nd Edition.  2012.  Sara Stinson, Barry Bogin, and Dennis O'Rourke, Editors.  Wiley-Blackwell.
Raff JA, Bolnick DA, Tackney J, O'Rourke DH. Ancient DNA perspectives on American colonization and population history. Am J Phys Anthropol. 2011 Dec; 146(4):503-14.
          (One of the five most accessed articles in the American Journal of Physical Anthropology in 2011.)
Raff J, Tackney J, O'Rourke DH. South from Alaska: A Pilot aDNA Study of Genetic History on the Alaska Peninsula and the Eastern Aleutians. Hum Biol. 2010 82(5-6):677-93.