Le-Thu Erazmus Campbell
---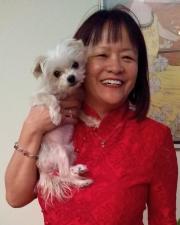 Office Manager
Course Scheduling & Undergraduate Officer
Undergraduate course inquiry and permission number contact.
Biography
—
Le-Thu provides administrative leadership and serves as the principal point of contact to the Anthropology Department.  She works closely with the department chair, faculty and students, to provide support and oversight for curriculum/scheduling, faculty/staff recruiting, office management and undergraduate inquiries.  She assists faculty with special projects, while finding ways to improve the quality of the department's workflow, processes and ingenuity.
Le-Thu joined the Anthropology department in 2011 and has held various KU support staff positions prior to joining the department.  She has 30+ years of combined service to the Lawrence and KUMC campuses.  A Lawrence native, her love for the KU campus began at a very young age since her father was a professor in the Applied English Center until his retirement in 1985.  Le-Thu received her bachelors and master's degrees in Community Health/Health Education from the University of Kansas.